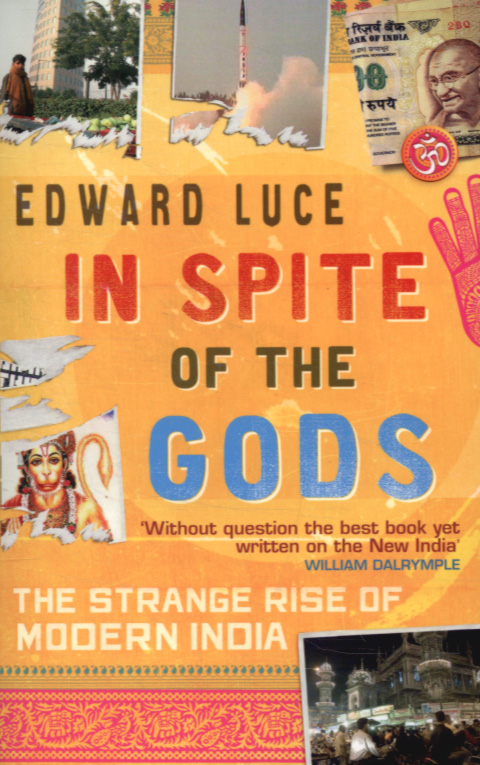 About the book
Edward Luce, a keenly observant British journalist who headed the Financial Times's bureau in New Delhi at the cusp of the new century, ventures an answer in this insightful and engaging book. His sharp-witted prose brings today's India to life with insight and irreverence. ("If Gandhi had not been cremated," Luce writes, "he would be turning in his grave.") Luce's writing is richly evocative of place and mood, and In Spite of the Gods sparkles with the kind of telling detail that illuminates an anecdote and lifts it above mere reportage. Almost the only thing not worth admiring in this book is its awful title, which suggests a nation struggling against the heavens -- a thesis that has nothing to do with Luce's sophisticated and sympathetic narrative.
But Luce is a far from uncritical admirer. He is unsparing on the corruption that infests Indian politics and society, on the ersatz Westernization that has seen sonograms used to facilitate the abortion of female fetuses by parents wanting sons, on the "unimpressive politicians" who run India's "impressive democracy."
Luce is right to list the many problems the country faces: the poor quality of much of its political leadership, the rampant corruption, the criminalization of politics (more than 100 of the 552 members of Parliament's lower house have charges pending against them). The situation in Kashmir festers, provoking periodic crises with Pakistan and leading to fears (mostly exaggerated) of nuclear war on the subcontinent. Luce summarizes these issues crisply and cogently. But I'd like to have read a little more about the strengths of India's vibrant civil society: nongovernmental organizations actively defending human rights, promoting environmentalism, fighting injustice. The country's press is free, lively, irreverent, disdainful of sacred cows. India is the only country in the English-speaking world where the print media are expanding rather than contracting, even as the country supports the world's largest number of all-news TV channels. Disappointingly, Luce tells us nothing of this.
But these are cavils. Luce clearly loves the country he writes about -- an essential attribute for a book like this -- but he is tough-minded as well, and his judgment is invariably sound. "In India," a colleague once told Luce, "things are never as good or as bad as they seem." If you want to understand how that might be, read his wonderful book.
Download from
Rapidshare.com
[File size ~ 4.78 MB]
Password : ngnm